Sacred Contracts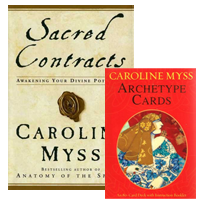 Alternate Endings: An Archetypal Journey of Fate or Destiny
Our Sacred Contracts classes are facilitated by Stacia Zadra, ARMT. She was professionally trained and credentialed by Caroline Myss and her staff at the Caroline Myss Educational Institute (CMED) in Chicago, Illinois and were certified by Caroline in 2005 following an extensive two year program. Stacia began teaching Sacred Contracts in 2005 and has taught every year through her Compass Rose practice.

Her style of teaching integrates Caroline's theories and teachings with her life experiences and deep commitment to students choosing the path of enlightenment. She teaches with intuitive awareness and gentle compassion for the work each person takes on.

Our highest potential is not a target for a life's end. Every moment has it's own highest potential. Yours, in this moment, may be to begin your journey towards consciousness beginning with discovering your divine potential.
Identifying Your Sacred Contract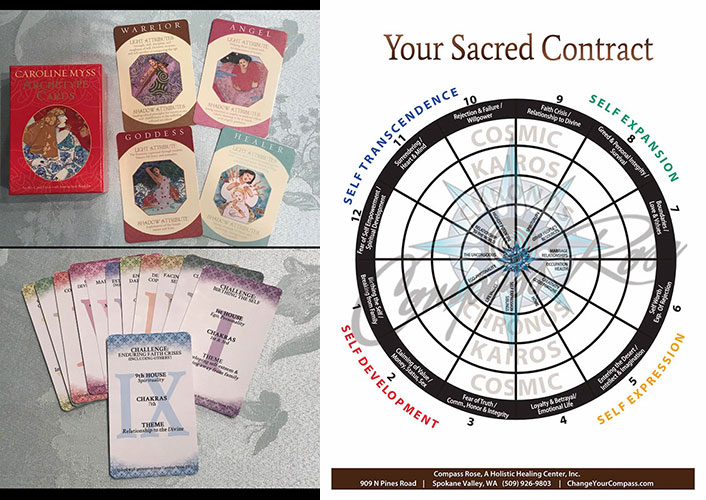 Our Sacred Contract classes include customized materials developed by Compass Rose - done so with permission by Caroline Myss.
This class is 3 full days -

Day 1: Learn Sacred Contracts Foundations, Explore the Archetypes, Claim Your Archetypes

Day 2: Cast Your Natal Wheel, Learn How to Cast and Interpret Wheels for Insight

Day 3: Set Intentions for Healing, Cast your Journey of Transformation wheel, Experience a Day of Healing and a Lifetime of Transformation.
We begin with learning what a Sacred Contract is. You will study the 4 universal Archetypes - the Child, Victim, Prostitute and Saboteur - which symbolize life's major challenges and how we can choose to maximize the potential they present. In getting to know all of the Archetypes, you will intuitively choose 8 companion Archetypes that represent your life-long patterns and characteristics. You will learn about the light side and the shadow side of each of your 12 Archetypes.
You will gain an understanding of the 12 houses and how they affect your archetypal patterns. This in-depth study of Archetypes and houses will allow for an accurate interpretation of your Sacred Contract. You will then be able to cast and interpret your chart of origin and learn how to navigate your life and live to your highest potential.
Upcoming Classes:
One-on-one Sacred Contracts Archetypal Journey and Life Purpose Teachings and Mentoring
Can't attend a full weekend workshop? Do you prefer a private meeting rather than a group setting? Would you like a personal consult with Stacia as you find your way to your purpose? These are done in three 2 hour sessions, set as best suited for each student.
Each 2 hour Session - $255 | Follow up 60 Minute Mentoring Sessions for Intuitive Guidance at $95
Sacred Contracts Transformations
I have yet to meet anyone who did not have a desire to heal their lives. Many of us have relationship-to-self issues or intimate/family relationship issues, financial, health, or work related issues that form blockages or obstacles to our peace. This is the human experience.
As we continue on the path of conscious evolution, it is imperative that we identify and remove the aspects of our lives that prevent our happiness. We are unconditionally supported by our unseen guide teams, our ancestors, our Angels, and Source during this time of unavoidable growth. The time is now, the help is with us and the outcome is promised. We only need to do the work.
In this workshop, we continue the Sacred Contracts journey and move deeper into the analysis of our personality selves. The archetypal study of our human nature gives us insight and guidance to heal our lives. As we "dive deep," we will discover the greatest obstacle to our growth and happiness. We will explore our own patterns, behaviors, and beliefs to discover and remove the core blockage, clearing the path for a liberating shift in our lives now.
During this class you will set out on a nautical-themed journey toward your desired outcome. We will work with your Natal archetypes - your "crew of twelve" - to learn what needs to occur to arrive at the other side of the shore safely, "on time," and transformed.
Upcoming Classes:
Fate & Destiny
What we are fated to do and what we are destined to do are two different things. We act out our fate according to our Free Will led by our Egoic nature. Our Sacred Contract holds greater potential for us and is what will bring peace, happiness and success in our endeavors.
This class is a continuation of the original workshop in our Sacred Contract series. Having learned your archetypes and practiced conscious awareness of your shadow and light behaviors, you can now move forward to change the course of your life. What you are fated to do no longer runs your life. Rather, what you are destined to do takes lead.
Following a brief review of the wheel anatomy and how it plays out in your life each student will begin the journey of reclaiming his or her destiny and casting the wheel that will bring it into manifestation. We will work with 12 houses, 3 wheels, and 36 archetypes including your 12 natal archetypes. This two day workshop will take us deep into reflection and guide each of us to understand why things happened the way they did. What you have been fated to do will be no more. Instead, you will see, feel, and experience transcendence at light-speed once you apply your understanding and free will to obtain the major shift you are seeking.
I will guide each student to set the appropriate intention for the pressing issue at hand. Behaviors, finances, health, and/or relationship issues will be healed and your destiny will become your focus and experience moving forward.
Upcoming Classes:
---
Sacred Contracts Graduates - Ancestors Weekend Intensive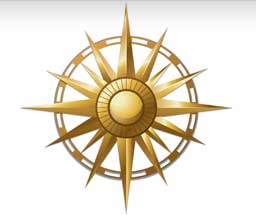 We have an obligation to fulfill on behalf of our Families. Our Families have an obligation to us, as well.
I went to Chicago to work with Caroline Myss to learn about the influences our families have on our life. Our Sacred Contract goes beyond the one that is related to our ego-personality (Our Natal Wheel) and our Soul (Our Charism Wheel) as "solo operators." Our families of Origin, as well as our Soul Families and Soul Groups are part of our Contract. This is really important for our Soul's work in this lifetime. During this weekend, I felt the presence of my family as I worked through an Archetypal wheel on behalf of the entire Soul team. It was really quite enjoyable!

We find life easier and more fluid when we heal the life experiences that have held us back. I came to understand at a deeper level the moments and the experiences that have shaped my life. As a result, I am on to other things now. I truly live in the present. I want you to have the same experience and richly fulfilling life.

This class was an eye-opener for me and it was a window of Grace for healing in my life. I want to share this class with you. ~ Stacia
Class Information
For graduates of Sacred Contracts, this class will explore the extraordinary realm of our ancestors. We will be discovering familial patterns that shape who you are by culture, collective myth, inherited psychic pain or power, inherited expectations, traditions that continue to speak through your life as well as other archetypal patterns that present themselves in various ways in a person's consciousness.
This class is offered in a 3-day weekend inclusive. To eliminate the need to take notes, each student will be provided with a 200+ page transcript of the class. Offering this class in this way gives us an opportunity to go deeply with continuity and reenter our lives with integration of a new understanding as to the purpose of our life.
Additionally, students will be able to experience Caroline's instruction as the lectures from April will be streamed during the class. Caroline was at her "best" during this class. An editor from Oprah Magazine was on sight during the weekend interviewing Caroline. This means she was on task the entire time - she really was amazing.
To travel to Chicago and take this class in person costs $1395 plus travel expenses, which is beyond the means of most people. We are delighted to be able to offer this class, and materials, at Compass Rose for $475
---